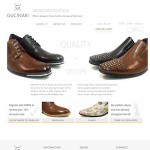 Gucinari sells men's designer shoes, boots and casual footwear. This project involved the addition of a trade order system onto the existing ecommerce site, which was built with WooCommerce. The requirements were:
Creation of trade user role and account area
Custom shopping cart allowing logged in trade users to add products to an order to request a quote
Display trade prices to trade users
The development was completed by creating a custom plugin and extensive use of WooCommerce hooks.